Paracord Keyring with Personalized Route 66 button and a black paracord FOB CH454PKR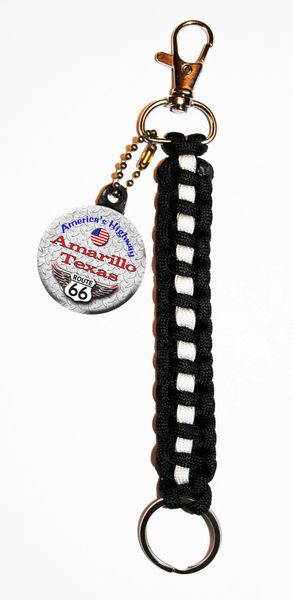 Paracord Keyring with Personalized Route 66 button and a black paracord FOB CH454PKR
>Paracord Key FOB featuring a personalized 1.5 inch Route 66 graphic button attached with a small ball chain.
>The four inches of black paracord features a white stripe down the center to represent the stripe on the highway.

>You supply the city/state of choice for charm.

>Durable, handcrafted 550 lb. Utility Key Fob. Attach to your keys and hang from your backpack, purse or belt loop with the easy, one hand operation clip. This is mildew resistant and will not rot, just remove the charm and toss them in the dishwasher to bring back their vivid color.
>There is 4 feet of paracord in this item.

>Button is sandwiched between a metal button and a clear piece of mylar to protect against dirt and moisture and is attached with a screw to the strap.

>The total length is app. 6 1/2 inches

>One end features a lobster claw clip that rotates 360 degrees and the other end is a split key ring.

>These are all hand made in the U.S.A. and are made to order.

Reviews